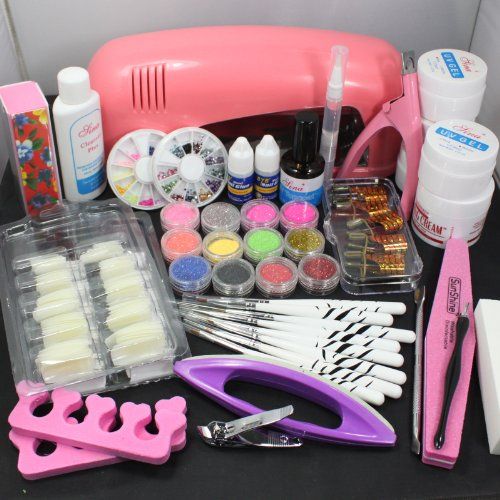 When it comes to doing your own nails at home, it's essential to have the right equipment on hand. Not only will it make the process of doing your nails easier, but it will also ensure that the end result looks professional. Here's a list of the basic equipment you'll need to get started:
Nail Clipper and Scissors
Good quality clippers and scissors are a must-have for any at-home manicure. They are essential for trimming and shaping your nails to the desired length and shape. Invest in a pair that feels comfortable in your hand and has sharp blades for precise cutting. Some of the top-rated nail clipper and scissors are Seki Edge Stainless Steel Nail Scissors and Revlon Nail Clipper
Buffer and Files
A variety of buffers and files are essential for shaping and smoothing your nails. They come in different grits, from coarse to fine, and are used for different stages of the nail-shaping process. A coarse grit file is used for taking off length, while a fine grit file is used for smoothing and buffing the nails to a high shine. Some of the best-selling buffer and files are Nail File Set and Nail Buffer Block
Polish and Top Coat
A variety of nail polishes and top coats are necessary for creating a professional-looking manicure. Make sure to have a base coat, a variety of colors, and a top coat on hand. A quick-drying top coat will be especially useful to speed up the drying time of your nails. Some of the most popular nail polish and top coat are OPI Nail Lacquer and Essie Nail Polish
Acetone and Remover
Acetone and remover are needed for removing old polish and preparing your nails before applying a new coat of polish. Make sure to use a non-acetone remover for gel polishes or it may cause damage to your nails. Some of the top-rated acetone and remover are Acetone Nail Polish Remover and Non Acetone Nail Polish Remover
Cuticle Oil
Cuticle oil is an essential step in maintaining healthy nails. It helps to nourish and protect the cuticles, keeping them hydrated and preventing them from drying out and cracking. A good cuticle oil will also help to promote nail growth. Some of the best-selling cuticle oil are CUTICLES NAIL AND CUTICLE OIL and
Cotton Balls or Pads
Cotton balls or pads are needed for removing old polish and preparing your nails before applying a new coat of polish. They are also useful for cleaning up any excess polish or oil around the nails. You can find them in most drug stores or online.
Brushes
A variety of brushes are needed for applying polish and cuticle oil. Look for brushes that are made of high-quality materials and have a comfortable handle for easy use. Some of the top-rated brushes are Nail Art Brush Set and Nail Brush
Additionally, you might want to consider investing in an electric file and UV lamp if you plan on doing gel polish at home. Gel polish requires a UV lamp to cure the polish, and it may take a bit more practice to apply it correctly. You can find many tutorials and videos online for gel polish application. It's also important to always follow the instructions and safety precautions that come with the equipment and products.
By having the right equipment on hand, you'll be able to create professional-looking nails at home, saving both time and money. Remember to take good care of your equipment and replace any worn out tools to ensure the longevity of your equipment and to achieve the best results.
It is important to note that all the links and the brands mentioned are examples and could have different prices and availability in different countries or regions. It is always recommended to check the official sites of the brands or the online shops where you are planning to purchase the equipment from.